Hand Knotted Rugs Manufacturers in India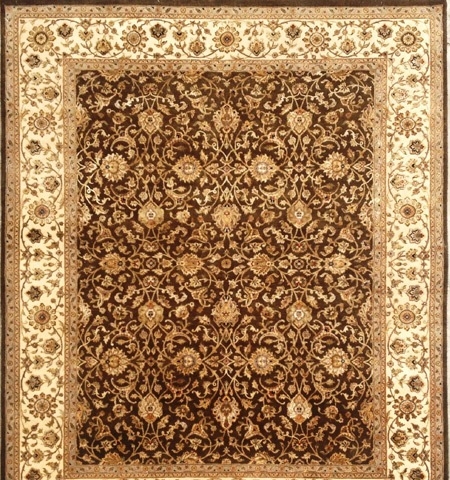 Hand Knotted Rugs
---
Global Floor Furnishers is a Leading Hand Knotted Rugs manufacturing company in India. We are the Best Quality Hand Knotted Rugs Exporter, Importer & Supplier in India. Choose our wide variety of colors, patterns, sizes, and a great selection of premium Hand Knotted Rugs in India.
---
Hand Knotted Rugs Supplying in India
Hand Knotted Rugs Manufacturers in India, Hand Knotted Rugs Exporter & Importer in India, Hand Knotted Rugs Suppliers in India, Hand Knotted Rugs in India. Hand-knotted rugs are made by tying every single knot on a warp which gives strength to make them run long-lasting. Each knot (as per the specified quality) is tied to the warp threads and then cut, as per the design motif. There doesn't have any latex or glue or canvas cloth at the back so you can see the quality of the knots.

Hand-knotted rugs are usually made from wool or other natural fibers, and the knots are usually tight and close together. These are usually made with warp and weft in cotton. This type of rug is highly durable and lasts for years.

Hand-knotted rug manufacturers in India
We are one of the top quality hand-knotted rug manufacturers in India that produce some of the finest rugs in the world. We use the highest quality materials and craftsmanship to create beautiful rugs that will last for generations.

India has a long history of rug making, and the skills of the craftspeople have been passed down through the generations. This means that the rugs produced in India are of the highest quality and are highly sought after by collectors and interior designers.

The hand-knotted rug manufacturers in India use a variety of different materials to create their rugs. The most common materials used are wool, silk, and cotton. These materials are chosen for their durability and beauty. The wool is often dyed in a variety of colors to create intricate patterns. The silk is used to add a sheen to the rug and the cotton is used to add strength and durability.

The hand-knotted rug manufacturers in India use a variety of different techniques to create their rugs and can transform almost all different types of designs.

Different knots of rugs :
Hand-knotted rugs made in India are in 3 patterns: One is Persian knots, the other is Nepalese knots also called Tibetan knots and the third is Turkish knots. The rugs made are any of these knots as per the demand of the client.

The knots are determined per sq inch, also it may be single knots or double knots.

Famous qualities are : 8/8, 9/9, 10/10, 11/11, 12/12 and more.

Knots per sq inch: 64 knots, 80 knots, 100 knots, 121 knots, and so on.

The quality and very often the cost of a hand-knotted rug are determined by the number of knots per square inch.

Process of making hand-knotted rugs
The rugs made in a hand-knotted pattern pass through the design first. After the design is made the Dying of the yarn in specified colors takes place, after which the map is issued to the weaver with yarn so that they may weave as per the knots mentioned in the map, to remove dirt and others from the rug it is being sent for washing from where after drying it is sent for straitening after which the clipping (sheering) of the yarn takes place, and the edges are being bound or fringes are locked as desired.

Custom hand-knotted rugs
Hand-knotted rugs are a work of art and a luxurious addition to any home. They are made by knotting threads of wool, silk, or other materials into the foundation of the rug. The number of knots per square inch will determine the rug's density and quality.

Hand-knotted rugs are durable and can last for generations with proper care. They are also luxurious and add a touch of elegance to any room.

If you need to have a high-end rug for your living room, dining area, or any such place you can customize the rug to your size, shape, color, and design.