Flatweave Rugs Manufacturers in India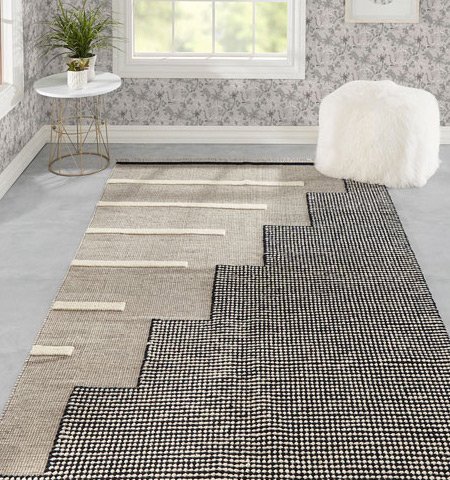 Flatweave Rugs
---
Global Floor Furnishers is a Leading Flatweave Rugs manufacturing company in India. We are the Best Quality Flatweave Rugs Exporter, Importer & Supplier in India. Choose our wide variety of colors, patterns, sizes, and a great selection of premium Flatweave Rugs in India.
---
Flatweave Rugs Supplying in India
Flatweave Rugs Manufacturers in India, Flatweave Rugs Exporter & Importer in India, Flatweave Rugs Suppliers in India, Flatweave Rugs in India. Flatweave rugs are a type of rug that is typically made from natural fibers such as wool, cotton, jute hemp, etc. They are typically thinner than other types of rugs, and they do not have a backing. This makes them ideal for use in areas where there is high foot traffic or where you want the rug to lie flat against the floor. These are also known as reversible rugs.

Flatweave rugs are often used in entryways or hallways, as they are easy to clean and maintain. They are also popular in bedrooms and living rooms, as they add a touch of warmth and texture to the space.

If you are looking for a flatweave rug, there are a few things to keep in mind. First, select a material that is durable & easy to clean. Wool and cotton are two of the most popular choices. Second, consider the colors and patterns that you want in your rug. Flatweave rugs come in a wide range of colors and styles, so you should be able to make a selection as per your selection.

When considering purchasing a rug for your home, it is important to think about the specific needs of your space. One of the most important factors to consider when selecting a rug is the flatweave area rug's size.

A flatweave area rug is perfect for smaller spaces. Not only is it a space-saving option, but a smaller rug will also look more proportional in a larger space.

If you have a larger space, consider choosing a rug that is textured or has a border. A textured rug will add texture and interest to a space, and a border will add visual interest.

Qualities of Flatweave Rugs
The flatweaves rugs are being weaved as Punja weave, or shuttle looms weaves. If you are looking for a tight pattern of weave, go with the Punja style, or if you need a throw look go with a shuttle loom weave. The latter has a loose weave more like thick fabric.

Contact Flatweave rug manufacturers :
If you're looking for a flatweave rug manufacturer that can provide you with high-quality rugs at an affordable price, you'll want to consider contacting a rug manufacturer like us Our company is known for its quality flatweave rugs, and you can be sure that you'll be pleased with the results. In addition, this company is also known for its fast shipping times, so you can rest assured that your order will arrive promptly.